LARGE DIAMETER METAL TURNING AND LARGE MACHINING SERVICES
Focused on Quality, Communication, and Precision
At Winchester Precision Technologies our strength is our manufacturing engineering and our understanding of the steps required to take your large part designs and make them reality.
With extensive large turning capabilities and a reputation for delivering precision, quality, and cost savings on-time, Winchester Precision Technologies has had the opportunity to provide large metal turning for numerous industries.
Some of the parts, products, and components our facility delivers include precision rolls, chemical process equipment, power generation components, ship propulsion and large industrial shafts of virtually any size.
When valued customers in any industry need a large metal turning, they trust Winchester to get the job done - for our experience, for our equipment, and for our approach to service.
Large Diameter Turning Capabilities
For large sizes and all alloys
Winchester Precision Technologies leverages our extensive large diameter metal turning experience to provide our customers with innovative machining solutions to overcome the challenges of long roll metal part manufacturing.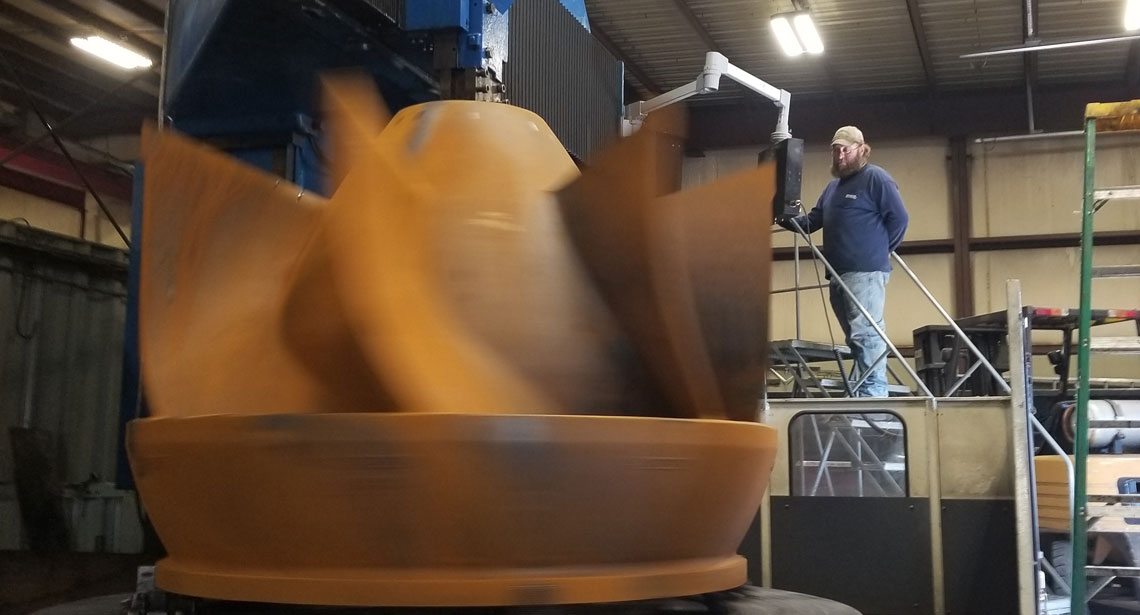 Our capabilities include:
168"-240" Diameter Vertically
120" Tall Vertically
570" Long Horizontally
CMM Inspection
12' Faro Arm, Faro Laser Tracker
Extensive Milling & Fabrication Capabilities
Roll Forming Up to 2-1/2" thk. Up to 120" Wide 21" Min. ID
Lift capacity up to 60,000lbs
Giant-scale Engine Lathes
Industries Served With Large Turning
Chemical Process Equipment
Converting
Large Industrial Shafting
Paper, Sheet, and Textiles
Plastic Film
Power Generation
Ship propulsion
Ship Shafting
ASME Pressure Vessels
Defense and National Lab
Advanced Large Turning and Forming Services at Winchester
The engineering team at Winchester Precision Technologies approaches every project with collaboration in mind, beginning with a detailed analysis of product features, which is then translated into specific process design requirements for the manufacture of your custom machinery or products.
At every step of the process, our team will partner with yours to ensure that your custom machinery or parts meet your final specifications.