HEATING AND COOLING ROLLS
Manufacturers Of Single Shell, Double Shell, Spiral Baffled Heat Transfer Rolls
With production requirements calling for faster line speeds, minimal thermal variation (ΔT), higher operating temperatures and higher operating pressures, the thermal performance of your heating rolls and cooling rolls is critical. That's where Winchester Precision Technologies comes in.
Armed with your detailed specifications and years of experience, Winchester Precision Technologies can design, engineer, manufacture and service complete heating rolls and cooling rolls to suit your specific needs and process performance. Fill out and submit our Roll Specification Tech. form so that we can engineer the thermal performance of your specific roll. The more information that you can provide the better we will be able to optimize your roll for your application.
Precision Engineered Heat Transfer Rolls
Winchester Precision Technologies was founded on our expertise designing, engineering, servicing, and manufacturing industrial rolls of all kinds.
Our greatest strength is our ability to work with the customer to understand their needs so that we can design, engineer, fabricate, and machine the ideal solution to help them meet their heat transfer goals.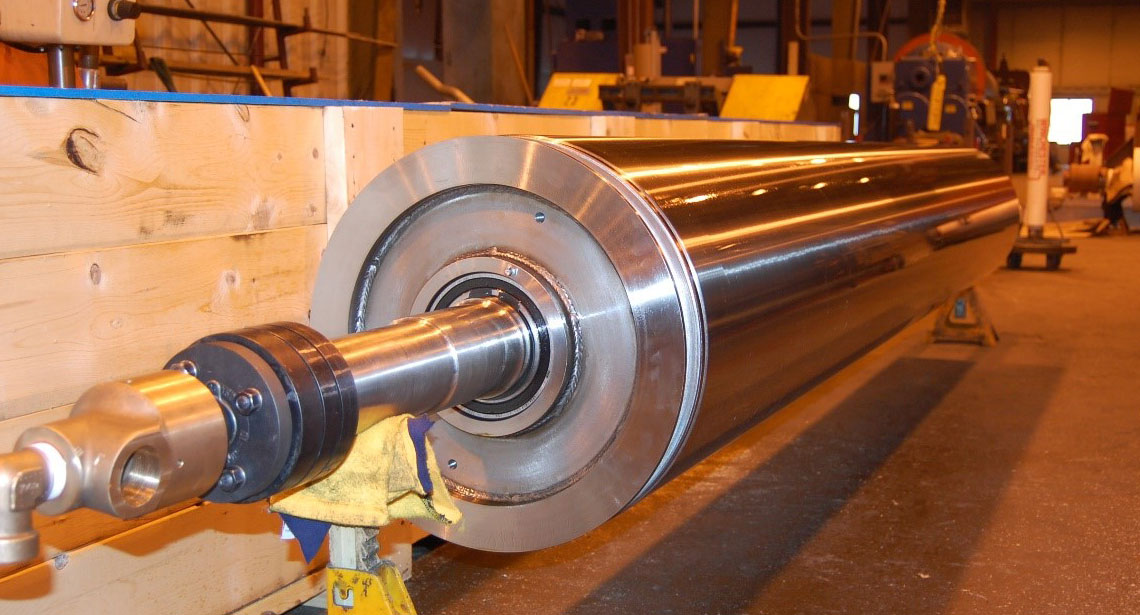 Whether a customer needs a simple, single shell heating roll or a double shelled, spiral baffled heating roll and the cooling rolls to match – Winchester can manufacture the roll to exact specifications in a wide variety of materials.
Heating and Cooling Roll Materials
Carbon steel (Pressure Vessel Quality)
High Nickel Alloys
Stainless steel
Alloy steel
Aluminum
And more…
Heating and Cooling Roll Materials
Hard chroming
Release Coatings
Thermal Sprays
Matte finishing
Roll grinding/polishing
Engraving
And more…
Industries Served
Paper
Plastics
Printing
Converting
Food Processing
Chemical Process
Metal processing
Steel
Textiles
Your Industry's One-Stop-Shop for Industrial Rolls
Why Winchester?
At Winchester Precision Technologies, we offer a one-stop shop for industrial rolls of all sizes, offering options ranging from 6 inches to 220 inches in diameter.
Heat Transfer Analysis: We use numerous tools to ensure peak performance for every industrial roll. By combining years of experience with computerized heat transfer analysis, deflection and stress programs, and advanced 3D-modeling software, Computerized Measuring Machines including 12' Faro Arm and Faro Laser Tracker – our team consistently delivers precision.
Fully Certified: Our ASME section VIII Division 1 quality program enables us to design, engineer and manufacture your industrial roll according to the ASME code and stamp with a "U" stamp. We can also repair pressure vessels.
State of the Art Meets 'Time Honored': To compete in today's world market, Winchester Precision Technology combines state of the art equipment with years of experience to transform each customer's need into a solution that can be depended on.