COMPREHENSIVE ROLL SERVICE AND REPAIR FOR ALL INDUSTRIES.
Proudly Providing Performance and Durability for over 30 Years
Comprehensive Roll Services, Characterized by Quality
Winchester Precision Technologies has earned a reputation for roll service excellence through our commitment to engineering, quality, technology and our ability to supply customers with industrial roll service and repair of unsurpassed durability, performance and quality at a competitive price.
With over 30 years spent honing our craft, the skilled engineers and craftspeople are proud to offer a comprehensive roll service program lauded as one of the finest in the industry.
Refurbishing a roll may be as straightforward as disassembly and inspection or as complex as rebuilding the entire roll including reverse engineering and manufacture of new components. Finish operations often involve turning, grinding or super finishing to bring the roll to meet size accuracy or surface finish requirements or balancing to improve operation at higher speeds.
A Full Range of Roll Services
Our roll services include bearing inspections, cleaning, CNC crown grinding (including compound crowns), disassembly, honing, non-destructive testing, Multiple Computerized Measuring Machines (12' Faro Arm, Faro Laser Tracker) for inspection/documentation of existing components, regrinds, rejournaling, bearing diameter repair, recovering and thorough inspection of all types rolls, including suction rolls, press rolls, calendar rolls, wire rolls and felt rolls. Learn more about our roll services below.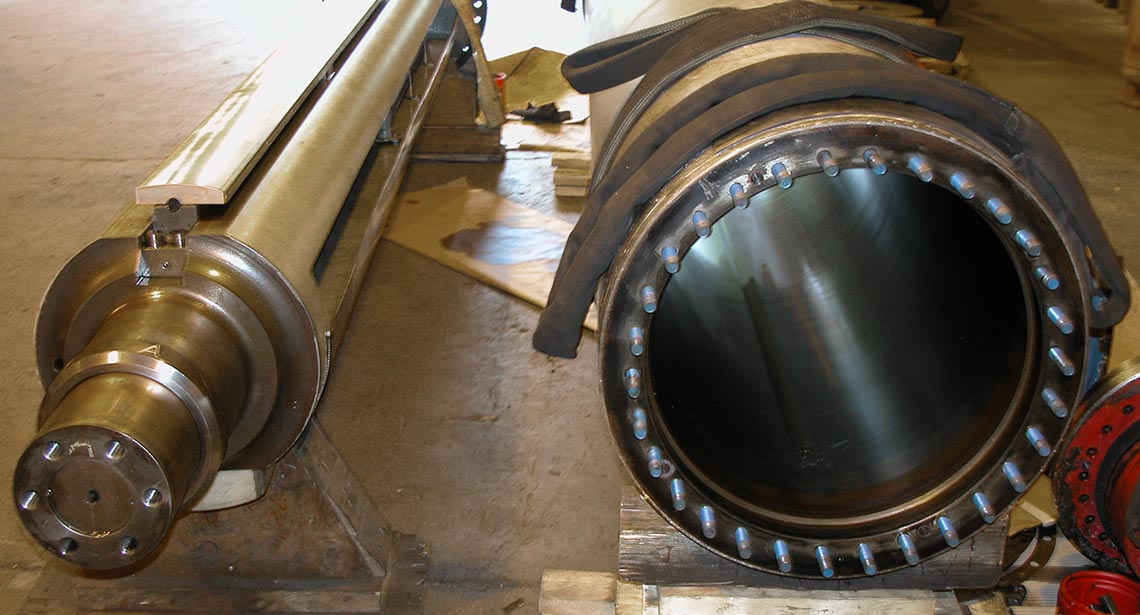 Roll Inspection: Winchester Precision Technologies can provide documented inspection of all critical fits including bearing diameters, housing bores, body bore, seal surfaces, drive diameters, body profile and surface finishes, Non-Destructive Examination, CMM documentation. After inspection the customer is supplied with a full report including recommendation of repair areas of concern and recommended future service frequencies to reduce permanent damage to your roll.
Roll Engineering: Has your process or product changed and now your rolls are not functioning properly. Let our engineers evaluate your roll/rolls and make recommendations as to what can be done to improve their performance. You can start the process by giving us a call or by filling out our Roll Specification Tech. Form and sending it to us via email or fax.
3 Plane Roll Balancing: Our advanced computerized dynamic balancer has the capability to balance rolls as large as 60,000 pounds and 66 feet in length. Our optical whip sensors and 11,000 foot per minute drive system enables us to accurately balance for today's high production speeds.
Roll Disassembly/Roll Assembly: When the operational limits of tolerance have become exceeded by wear, our team's experience with roll assemblies enables us to dissemble and reassemble your roll. Our roll disassembly services include an extensive range of rolls including suction rolls, press rolls, calendar rolls, wire rolls and felt rolls.
Roll Refurbishment: After inspection and consultation, our team will refurbish your rolls to original or improved specifications, dynamically balance them and provide certified in-process and final inspection reports when requested. Your finished rolls will be better than new and ready for a long and productive service life.
Service Contracts: For over 30 years, Winchester Precision Technologies has cultivated and maintained enduring collaborative partnerships with our valued customers. Integral to our long-term success is communication and belief that when we work together, we can achieve the outstanding results. We are pleased to provide service options for regular maintenance on your rolls to help reduce cost and ensure products of superior quality.